The award winning ShopSite shopping cart is one of the easiest-to-use shopping carts for any business.
More importantly, it is one of the most secure and stable carts we have ever used!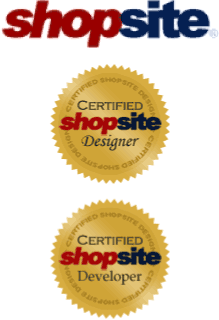 If you're tired of constant updates and vulnerabilities, or shopping carts that are too limited by proprietary hosting, give ShopSite a try.
ShopSite Ecommerce Shopping Cart
Award winning ShopSite Shopping Cart is the easiest-to-use shopping cart software for small to medium-sized businesses. With our ecommerce software and intuitive interface, you can have a store online in 15 minutes. With our rich feature set you won't outgrow our catalog software, and you will not need expensive add-ons in order to have a fully functioning cart.
Works with any web building or HTML tool: You probably already have tools that you're familiar with, and you can continue to use those tools with ShopSite. For example, you can place ShopSite "Add to Cart" buttons on existing Web pages to quickly commerce-enable your client's site. Or you can create entirely custom pages that make use of the ShopSite product database.
Customizable Templates: You can use ShopSite's template building features to create exactly the look that you want for product and page layouts and the shopping cart. Apply different templates to different products and pages in the same store.
Custom Pages: With this feature, designers can embed ShopSite database calls into an HTML page. This allows you the flexibility of customizing a page to your heart's content, while affording you the easy maintenance of a database-driven site.
JavaScript Support: ShopSite lets you add JavaScript and other instructions into the <head> section of store pages so that you can create custom effects and gather information.
Order API: Write your own CGI script and have ShopSite run it when a transaction is complete, such as to connect to a custom payment processor or warehouse/inventory tracking system.
Customizable Store Text: You can easily change almost every bit of text that ShopSite displays to customers.